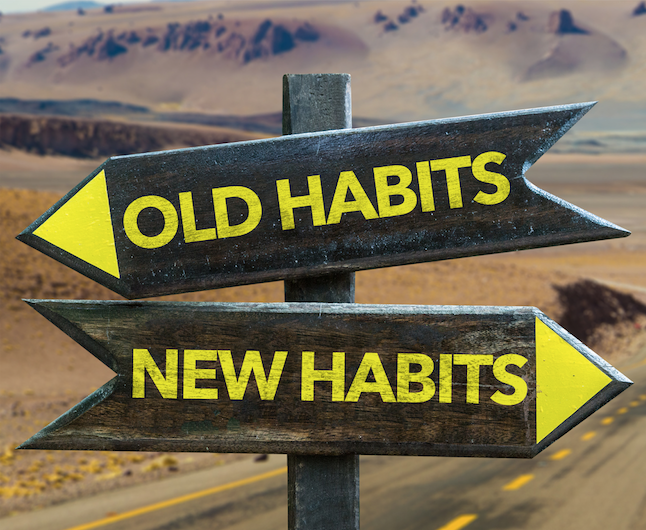 The Millennial generation has shown a clear increase in symptoms related to depression and anxiety. [1] However recent data shows that the symptoms of that anxiety are currently shifting from a "me" centered approach back to, "what do I need to do to demonstrate my value."
According to Deloitte's 2017 Millennial Survey, "In the current environment, millennials appear more loyal to employers than a year ago. In a period of great uncertainty, stability is appealing and they would be inclined to turn down offers for freelance work or as consultants. The 2016 Millennial Survey implied that young professionals lacked loyalty, as many anticipated leaving their employers in the next two to five years. After 12 months of political and social upheaval, especially in developed markets, those ambitions have been tempered. [2]
This Generation has certainly had its fair share of criticism, but we're not here to judge, we're here to understand the data and take action for our collective future. Although resulting from a chilling set of circumstances, there has been a current positive transformation exposing a recently humbled Millennial generation shifting toward seeking financial self-protection, loyalty and security instead of an intention to job-hop and under-commit.
Last year, the gap between those who saw themselves leaving their companies within two years and those who anticipated staying beyond five years was 17%. This year, the balance of millennials looking to leave "soon" is only 7%. Data suggests millennials are showing signs of greater loyalty is far stronger in certain markets, with the balance looking to leave "soon" falling from 32 – 12% in the UK; 18 – 5% in France; and from 7 – 3.7% in the US. Millennials in the US are now communicating that they will stay beyond five years." [2]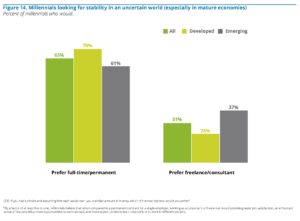 Irrespective of perceived across-the-board advantages of working as freelancers or consultants, nearly two-thirds of millennials prefer full-time employment. This preference accounts for 61% within emerging markets and 70% in mature economies. The reasons most often given for preferring a permanent role are that it offers "job security" and "a fixed income." [3]
The urge to self-protect is human. Due to the integration of technology, and with it a reformation in the way we communicate, there has been an inundation of news with varying levels of accountability and globalization at an astonishingly fast pace. The Millennial generation has been culture-shocked and without the guidance from elder role models' to navigate positive change.
Interestingly, this generation has also been subject to a major shift in advertising and personal representation. Companies present themselves more like consumers, in an attempt to be more relatable, and people present themselves more like commercials – showing only their best sides on social media. Understandably, this has also jolted Millennials into a hypersensitivity to advertising and just about everything else so they're constantly searching for something they can trust. Fortunately, this has given way to a remarkably positive emphasis on the importance of philanthropy in the workplace. Millennials are becoming even more engaged in philanthropic causes in 2017 than they were in late 2016, according to Phase 1 of the Millennial Impact Report. [4]  Millennials shop from, and want to work for, companies that 'do good.' This, hopefully, will become a lasting standard.
Hopefully this recent shift toward long-term employment by Millennials and philanthropy are an indicator of strengthened commitment to corporate America. Employers should embrace this transformation and engage this new direction by Millennials.
What can we do today? Build strong teams and nurture, cultivate and train the future leaders of our companies by taking time to understand them now. For 17 years, Executives Unlimited has been committed to helping our clients develop their strategic executive workforce planning, and we'd be happy to help you with your changing needs. For information about our services, call us at (866) 957-4466 or contact us online today.
REFERENCES:
[1] New York Times. For 80 Years, Young Americans Have Been Getting More Anxious and Depressed and No One Is Quite Sure Why
[2] Deloitte Millennial Survey 2017
[3] Deloitte. 2017 – Freelance Flexibility with Full-time Stability
[4] Millennial Impact Report – 2017